Flushing of the flag at Gitmo!
No, this is not an example of lack of discipline in the ranks. This is an example of lack of common sense in the United States. Let's start with the Qu'ran desecrations.
There have been five instances where a U.S. service member has accidentally desecrated a Qu'ran at Guantanamo Bay, Cuba. All five of those times the individual in question was severely punished and either reassigned or kicked out of the military. Just getting the boot from the military doesn't seem like that big of a deal until you realize that any company with a contract to be on a base has to sign an agreement that states they will hire no one that was granted a less than honorable discharge. (It's about the same thing as the "gas with oily discharge" you get from Olestra.) Those that have been terminated from Gitmo have severely limited their careers. But I digress, that's not really what this whole thing is about. It's about treating a material item as something greater than itself. For many it's about respecting a culture. The Qu'ran is supposed to be the icon of that culture.
Lets take a look at this picture: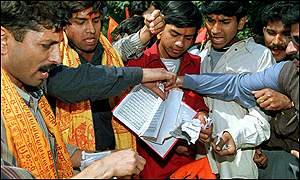 This is an image of Hindus protesting the destruction of those two giant Buddhas in Afghanistan. The book they're turning to confetti is none other than the Qu'ran. No one went to war over it.
How about this one from Korea:
I can't find the image of the Qu'ran burning in South Korea after they had a guy beheaded. If anybody out there still has a copy I'd be much obliged.
Okay, the point here is that the Qu'ran gets desecrated daily. It's no big deal, especially when it's unintentional. Just ask the Wahabists when they burn down a stack of Qu'rans: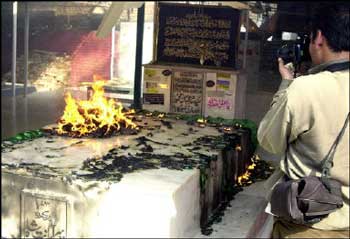 Sepahi Sahaba and Wahabis attack the holy Mousque. This is how they claim to be Muslim, to attack children, female people's properties and even the place Islamic prayers.
As far as I can see the Qu'ran is a symbol of the Islamic peoples. They are also a symbol of terrorists. When I heard about the Qu'ran flushing truth stretch and what occurred I was tempted to flush a Qu'ran myself. Then I came to my senses and realized I would be paying a pretty hefty plumbing bill if it did this.
So why am I ranting about this now? Well, it seems that congress is trying to pass that flag burning law again. It appears they want to make it illegal to burn the flag. I say we should only make it illegal to flush them. C'mon, can't you see what happens when we try to flush an item of importance? People riot in the streets and kill people. No one dies when you burn a flag, only when you flush something to people seem to die.
No, I am not serious about this. I don't believe any of these items should be burned but I respect one's right to burn an item of extreme importance in effigy. In my eyes it's protected under the same category as other forms of art. Do we arrest the painter for painting Bush like a monkey? Did we fine political comics for all of those truly tasteless "blue-dress" jabs? No, they're protected as free speech.
My father once asked me whether burning a flag was speech or action. If you burn a random article you are doing nothing more than making an action. If you burn something of importance you have just made a statement. That is speech.
Let me give you a few more examples of this "active speech". Someone doesn't like the way congress is raping the constitution so they buy a copy of the constitution and burn it in protest. That is speech. Someone urinates in a jar and dumps a crucifix in it, then calls it "Piss Christ". As repulsive as it may be it is protected as speech. (Just for the record, I know that this little piece was paid for by the government and that would cause me to enact the Constitution burning if I was one of those people that burned things.) Bible burnings, Qu'ran burnings and even Torah burnings are free speech because you are trying to send the message of disdain and/or anger, rage, disappointment, disgust, etc.
Sure I could do something a little less drastic to try and make my point. Would it put me on national news to hold a bake sale against Judaism? (No offense to Jews. I'm just giving this as an example.) I might get a five second blurb on Good Morning America if I raised over $10,000. Someone would roll their eyes and we'd be on the next segment. If you burned a symbol of importance you have just given yourself national and sometimes international coverage. If you were an American you'd get interviews, the blogosphere would talk about you for weeks. People would devote whole sites both for and against you. It might even net you a book deal for your cause.
To end this I'd like to quote a poem I heard today so we can all have a little perspective:
IT IS THE SOLDIER
It is the Soldier, not the minister
Who has given us freedom of religion.
It is the Soldier, not the reporter
Who has given us freedom of the press.
It is the Soldier, not the poet
Who has given us freedom of speech.
It is the Soldier, not the campus organizer
Who has given us freedom to protest.
It is the Soldier, not the lawyer
Who has given us the right to a fair trial.
It is the Soldier, not the politician
Who has given us the right to vote.
It is the Soldier who salutes the flag,
Who serves beneath the flag,
And whose coffin is draped by the flag,
Who allows the protester to burn the flag.
(© Charles M. Province)
Taken From: Babalu Blog

Ken from The Squamata Report was kind enough to find Zell Miller's 2004 speech where he uses a piece of the above poem. LINK
Posted by aakaakaak at June 18, 2005 10:38 PM